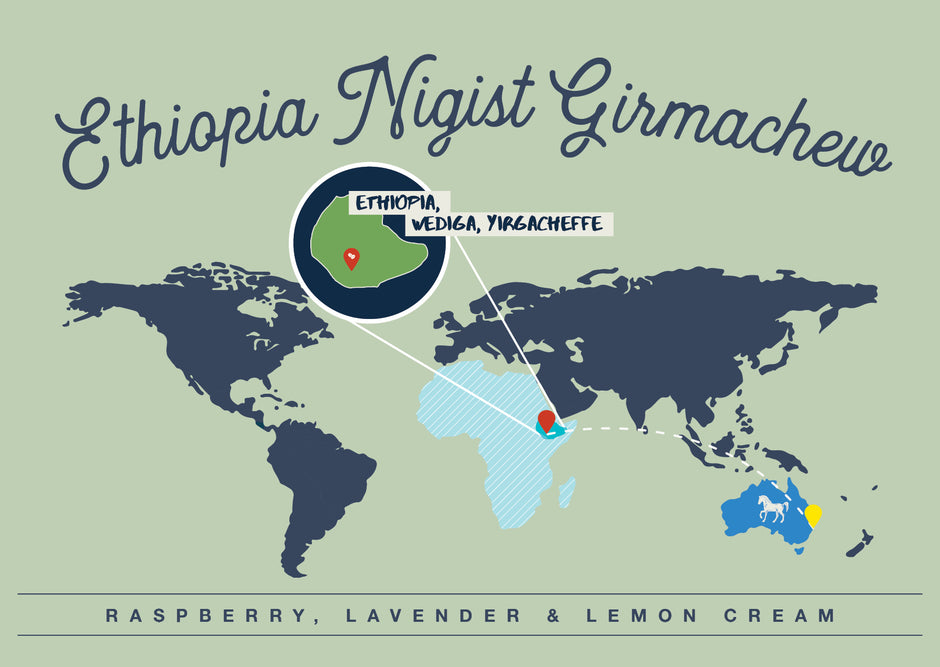 Ethiopia Nigist Girmachew
Raspberry, Lavender & Lemon Cream

Nigist Girmachew is one of the few young women in coffee, and has recently joined the Jabanto farmers coffee business group. She currently sells her coffee under her own name or as a consolidated blend under Jabanto. Nigist's coffee farm is located in Wegida village of Yirgacheffe county in a specific place called Dobi. Not only is Nigist a hard working, dedicated and passionate female coffee farmer. She's also the Matriarch of the family, raising her children and catering to family needs on a daily basis. The coffee trade and Nigist's ability to represent her own harvest is a significant step towards financial stability, and she's currently working on diversifying family's livelihood by investing the income generated from coffee farming on a small retail shop in Dobi village.
Wediga, Yirgacheffe Region
Kurume, 74110 74112 Varieties
Natural Process
2108m Elevation
Suggested Recipe: 21 grams > 50 grams > 36 Seconds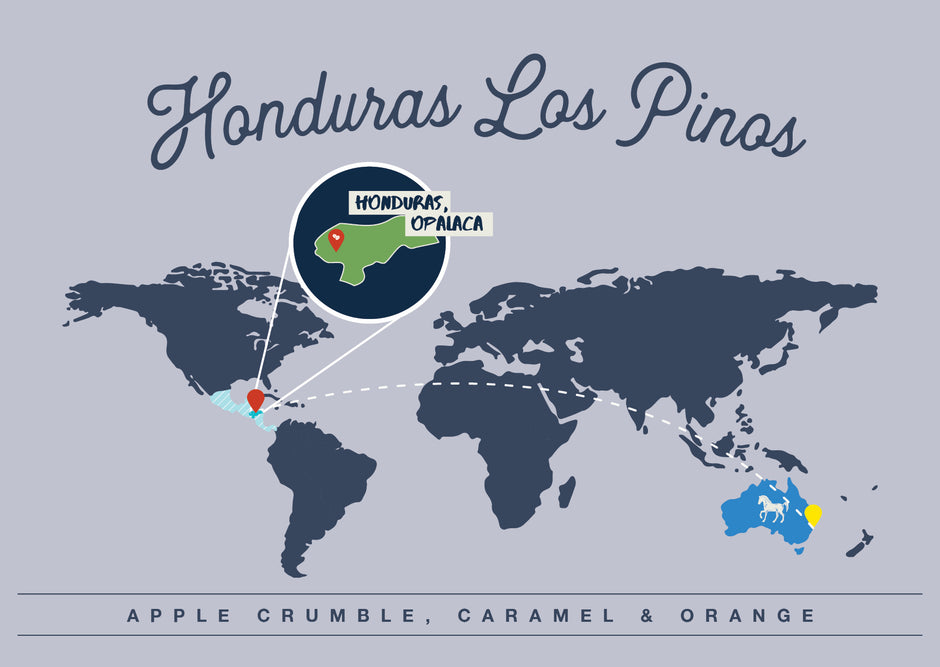 Honduras Los Pinos
Apple Crumble, Caramel & Orange

Laurentino Hernandez is a coffee producer from San Marcos de Caiquin, located in the Opalaca Region within Lempira states. San Marcos de Caiquin is known for its steep hills, picturesque landscapes and pine forests, the latter of which Laurento has named his farm after. Laurento started "Los Pinos" (translated to "The Pines" in English) in 1994 and has been growing coffee there ever since. Laurentino hand picks the coffee, the next day he depulps the cherries and sieves the coffee beans to take out the pulp. He then washes the coffee in a concrete tank and takes out all defective and low density coffee. Finally, he dries his coffee in a greenhouse on raised beds to get a better result in the cup and more stability of his coffee.
Opalaca Region
IH90 Varieties
Washed Process
1600m Elevation
Suggested Recipe: 20.5 grams > 50 grams > 30 Seconds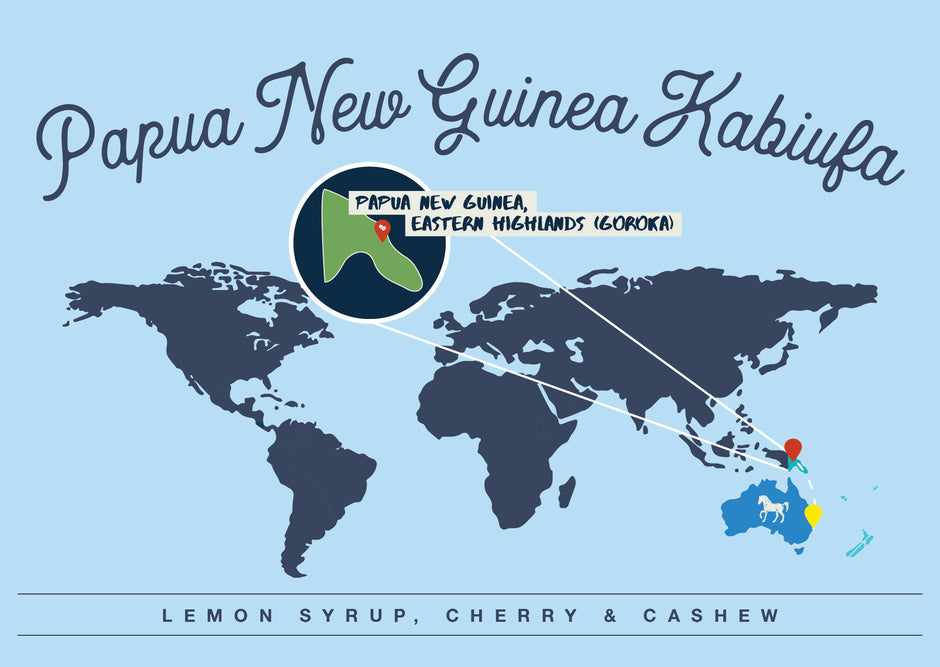 Papua New Guinea Kabiufa
Lemon Syrup, Cherry & Cashew

Unlike many specialty coffee stories, this coffee initiative does not have a very long history. In fact, the Riverside coffee is a very new initiative. A local entrepreneur in Kabiufa, Moses Venapoe, was inspired to start this after attending some workshops. Coffee from the Kabiufa area is usually exchanged in small lots at roadside parchment buying points, then amalgamated and sold as Y grade coffee. Moses has made it possible to access the regionality of Kabiufa with his operation. In November 2019 Moses decided to try and fill the void of a dedicated coffee buyer by setting up a buying station for his community in Kabiufa. He did so by vigorously implementing best post-harvesting and processing practices and demanding the same from his suppliers from day one! Unlike most coffee buyers in the area who trade parchment, Moses set up a cherry buying operation and built a small wet mill in his own back yard to ensure full control of the wet milling, fermentation and drying of the coffee. The result so far has been stunning quality from lot to lot.
Eastern Highlands (Goroka) Region
Arusha, Typica and Mundo Novo Varieties
Washed Process
1750m Elevation
Suggested Recipe: 22 grams > 50 grams > 39 Seconds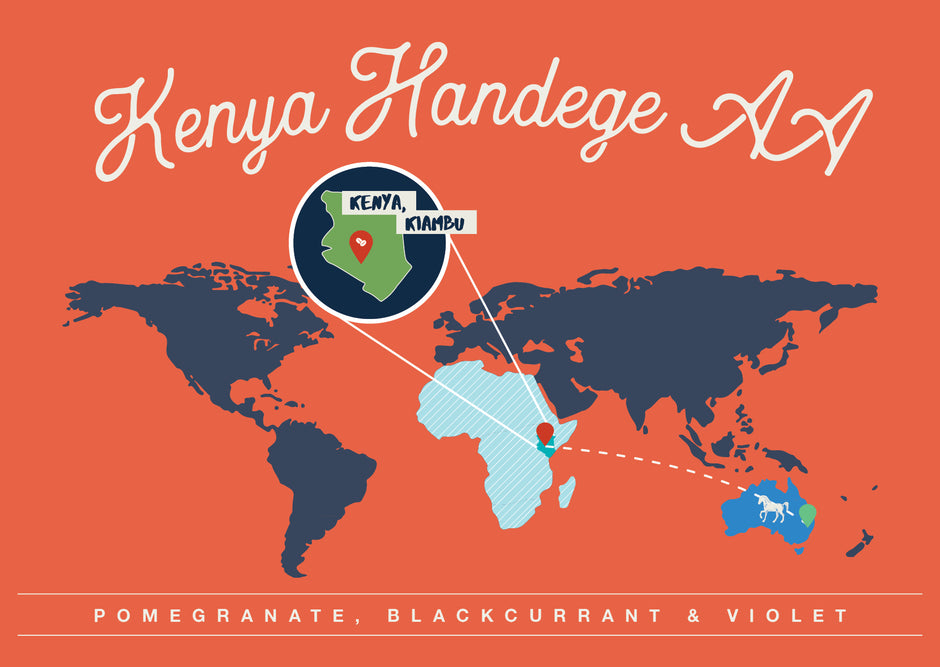 Kenya Handege AA
Pomegranate, Blackcurrant & Violet

The name "Handege" is derived from Ndege, the Swahili word for aeroplane. Handege Coffee factory is affiliated to Ritho Farmers' Cooperative Society. This society is located in Gatundu location, Kiambu County and it was founded in 1972. Both Wamuguma and Handege factories are part of the Ritho FCS, with Handege being the smaller of the two factories, additionally, it has exceptional coffees. White Horse Coffee has bought coffee from Handege Factory (and Wamaguma!) on and off for many years. The quality of coffee from this co-op is consistently excellent, and we are excited to be able to share it.
Kiambu Region
7SL28 & SL34 Varieties
Washed Process
1600-1800m Elevation
Suggested Recipe: 21 grams > 50 grams > 30 Seconds