Caramel. Cherry. Sticky Date.
Showcased May 6 – June 2
Process: Washed
Varietal:

Bourbon and Caturra

Region:

Quetzeltenango

MASL: 1600
For the next 4 weeks we are showcasing a charming coffee from El Vergel in Guatemala. This elegant organic coffee has a delicious combination of caramel, cherry and sticky date. We have featured it before and it's a regular player in our signature White Knight blend. This coffee is totally worthy of an encore!
About El Vergel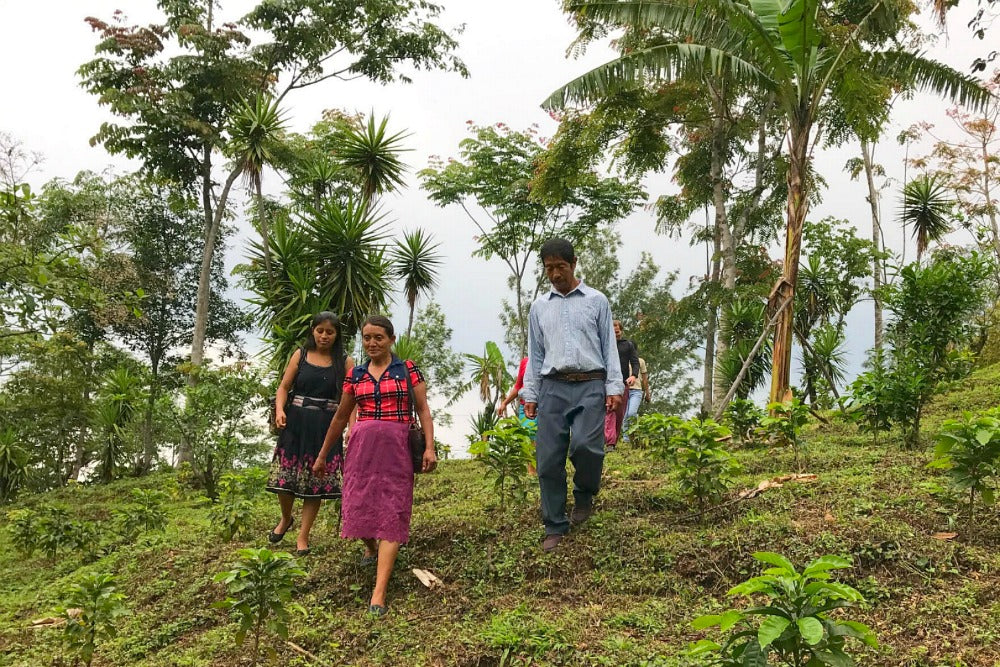 El Vergel is an outstanding organic farm in San Marcos, in the heart of Guatemala. The farm is about 121 acres on the western slope of the Sierra Madre mountain range in San Marcos.
Not that long ago Tony, our green coffee buyer from First Crop Coffee snapped a few photos on a recent trip while he was enjoying a farm-tour with the El Vergel family. Getting to the farm requires an hour long hike and some dangerous abseiling, but Tony says, "It was so worth it!"
That Waterfall!
So what's with the waterfall? This incredible waterfall on the farm provides water for washing and processing the coffee. Tony abseiled down the cliff next to this waterfall with the farmers! Tony's crazy! After the abseil, Tony messaged us and said, "Quite possibly one of the most dangerous paths we've ever walked and easily one of the most rewarding."
Here's Tony, drenched at the bottom of the waterfall.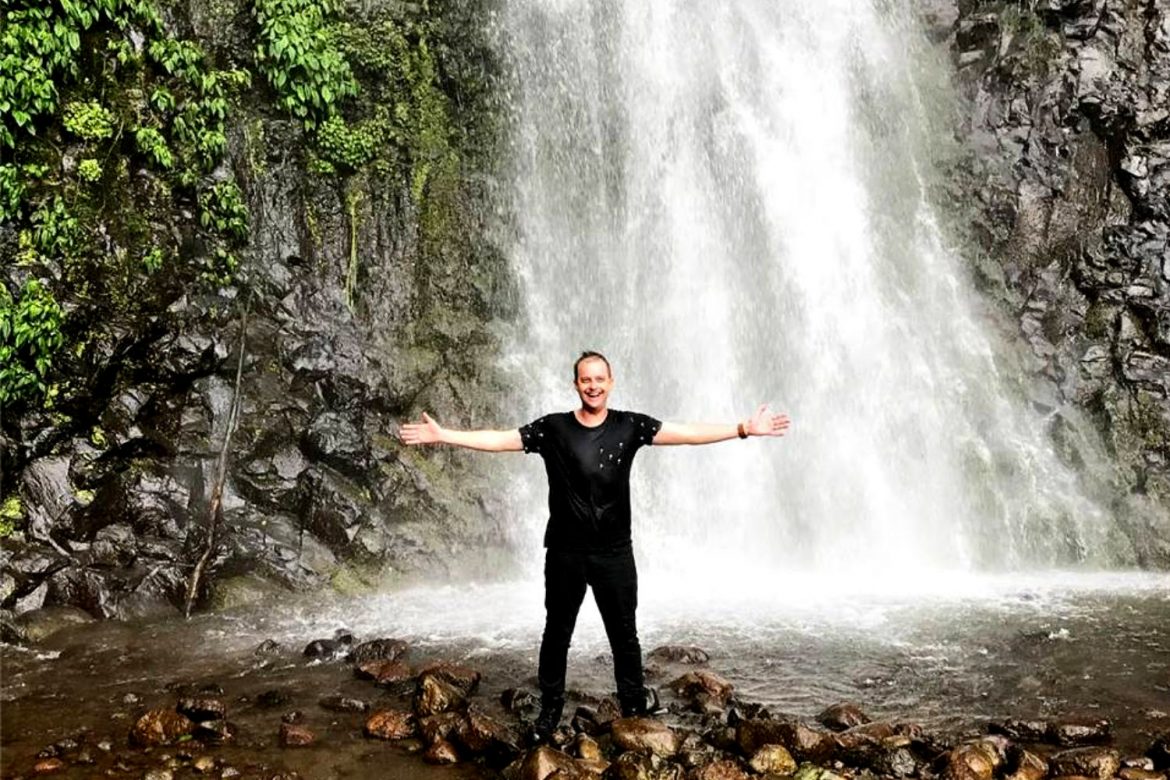 El Vergel is organic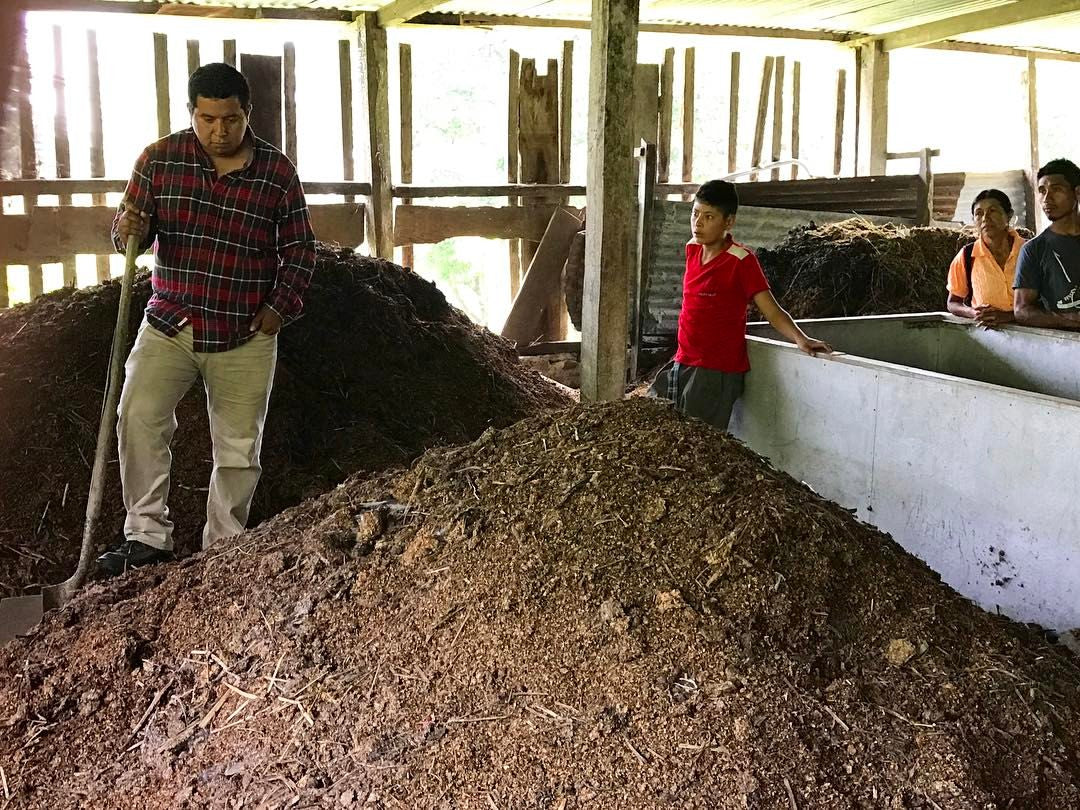 El Vergel is organic certified. This is organic compost (above) is in its second stage. The compost is made from coffee pulp, parchment, the water from the washing process and organic materials and organisms around the farm. Recently goats and cows were bought by the farmers to create more organic material and also to be used for milk. By increasing the materials available they can create more compost, as each mound takes 2 months before it is ready.
Making their own compost not only saves the farmers money, but relates back to cultural farming practices and is organic. 5kgs of this compost is applied to each tree and because it is natural and organic it helps feed and nurture the soil. By adding nutrients into the soil the trees have more nutrients to draw into the coffee cherries, which increases flavour. There's some pretty incredible stuff happening at El Vergel and it shows in the cup
With organic fertilizer they're multiplying natural organisms which helps bring the soil back to life. These microorganisms also help the coffee cherry to mature at an even pace so they ripen at the same time. By increasing the soil quality the cherries have more nutrients to draw upon.
Hope this delicious organic lot from El Vergel makes you happy.
Brian
…
Contact us here for Wholesale Enquiries